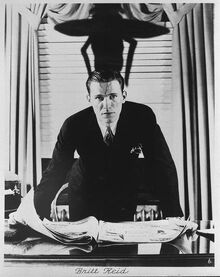 Britt Reid was the Green Hornet from the late 1930s to the early 1950s, and the owner of the Daily Sentinel newspaper. This version of Britt Reid was played by four different actors during the show's run: Al Hodge (1936-43,45), Donovan Faust (1943), Bob Hall (1945-47), and Jack McCarthy (1947-52).
Biography
Edit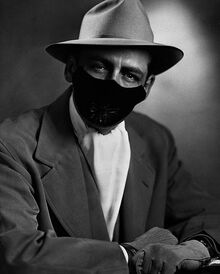 Britt Reid was the only child of Dan Reid Jr., the nephew of John "The Lone Ranger" Reid and founder of the Daily Sentinel newspaper. At some point, Dan left Britt in charge of the Sentinel and retired somewhere in Texas. Also at an unknown point in time (presumably in the mid-1930s), Britt decided to try to put an end to the crime his newspaper reported on, and became The Green Hornet.
As mentioned above, Britt's father, Dan Reid Jr., was the nephew of The Lone Ranger, thus making Britt the Ranger's Great-Nephew. The only time the relationship between the two characters was mentioned was in the Hornet episode Too Hot To Handle, where Dan (never directly mentioning the name of his famous relative) said he rode with Britt's "pioneer ancestor" in the hills of Texas. While Dan tells Britt about him, The William Tell Overture can be heard in the background.